If you are looking for a church to call home, or perhaps you know something of Jesus and would like to know more, we would love to have you join us. When you visit, the first thing you may notice is a warm welcome. Please don't let this scare you away. Loving one another is what we do.
Our Sunday mornings start with Sunday School for all ages which runs from 9:30 to 10:30. Worship service starts at 10:45 and typically lasts about 90 minutes. We sing a mixture of traditional and contemporary songs and hymns that are doctrinally sound and accompanied by a balance of instrumentation. Children are welcome to participate in our entire service. We celebrate Communion on the first Sunday of each month and typically have a potluck meal together on the third Sunday which we call "Grub & Grow" (immediately following service). We have plenty visitor parking near the entrance and a wheelchair ramp for accessibility. We are located adjacent to Southern States, and next to Feed My Sheep Christian School in Philippi.
Here are some things you might notice when you visit us...
We highly value the authority of God's Word. You'll experience this in the preaching--which is typically done verse-by-verse through a book of the Bible (usually referred to as expository preaching). You'll also notice it in our singing, scripture reading, and praying together.
We invite participation. We don't view Sunday as a passive experience for the congregation, but rather encourage all to engage in singing, sharing, giving, ministering to others and active listening.
We're not perfect, but we're real. We genuinely pursue authentic relationships with one another that go beyond the masks we often wear. This also means we don't dress to impress others; most of us come in casual clothing.
We are family. What happens during the informal part of our gathering (before & after) is just as important to us as what happens during the formal part of our gathering.
We like that we're a family made up of lots of differences--older and younger, single and married, home school and public school, Barbour County natives and "outsiders", etc. Our unity is found in Christ and His gospel.
We encourage and expect spiritual growth in everyone, whether you are just learning about Jesus for the first time or have been walking with Him for years. We call it "steps to the right". It's what we're made for.
We look forward to meeting you and spending time with you as together we learn more of the purpose of our existence on this earth. A good place to start is here-Acts 17:26-27.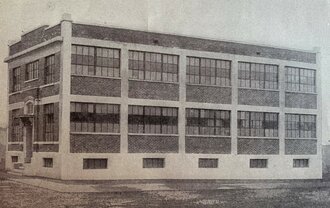 Fun Fact
Our recently renovated building is about 100 years old. It was originally constructed to manufacture pharmaceuticals for Dr. J.W. Myers and his Remedy Company (you might recognize the name if you've visited the Philippi Museum).
Interesting that this building is now being used to provide a different remedy--one that leads to eternal life which can only be found in Christ Jesus (Ephesians 2:1-10)!